I want to improve my performance in an endurance sport.
Whether you're an elite racer going after a personal best or you're new to endurance, we can get you closer to your goal. Get an edge with the performance-enhancing benefits of altitude and go into your next event stronger and faster.
WHAT ARE YOU TRAINING FOR SPECIFICALLY?
"I'm training for one of the Marathon Majors..."
You've got Boston, Tokyo, London, Berlin, Chicago or New York on the horizon. Let's get you ready to race.
"I want to improve my performance in running, cycling, triathlon..."
Athletes who train at altitude outperform those that don't. And the best part? You don't need to train for hours to get the benefits.
"I'm new to endurance sports..."
You're just getting into running, cycling or triathlon training. Maybe you have a 5k or a Try-a-Tri booked. We can help you get started and learn how to train.
"I'm preparing for an upcoming endurance event or race..."
Work with an expert coach on a personalized training plan for your upcoming event. We use fitness testing to identify your training zones and targets.
Meet with an Altitude Coach
Schedule a complimentary consultation with one of our coaches, either virtually or at the Altitude facility, to talk about your endurance goals, preferred timeframe, and current fitness level. We'll guide you in exploring the optimal training choices tailored to endurance athletes like you and assist in charting out your upcoming strategies.
I have for years tried to find a gym that didn't treat me like a $, somewhere that would educate me and help me understand my body in relation to my goals. But let's face it; this is everyone's hope. Every gym has a "schtick," and in the end, you probably stopped going because once you got past the aesthetics and the basic programming, you realized you were not gettin...
Read More
Ryan Legit the best gym there is and worth every penny. I started training here July 2022 and could not run even half a mile. Two months later in October, I ran my 1st 5k in 37 minutes. On May 7th 2023, just 8 short months later, I completed my first half marathon in just over 3 hours. Whether you're working on speed or endurance(or maybe both) Altitude is the place to train.
Also, the coaches ar... Read More
Jay Grosse This is a truly unique and amazing place! I've trained at Altitude Athletic multiple times and the gym is beautifully designed, high-tech, and the fact you have an entire large room where the atmosphere can change to reflect different elevations is something I've never seen before. The staff were very friendly and helpful and they have some great coaches too!
Edward Summit member for 3 months. Can't speak more highly of Altitude as a "semi-extreme" athlete. Amazing facility and staff, the benefits of altitude training were remarkable for me. I've raced ultras for years, joined Altitude with an aggressive race schedule (3 ultras and a marathon major within 11 weeks) and exceeded all expectations with a couple PBs. With lower overall intensity I'm fas...
Read More
Tom I really enjoyed this class, if offered a lot of variance and options to acclimate to the room and push yourself if you felt ready. The running portion was a full 30 minutes too which was awesome (some classes take into that time with warmup/cooldown). So glad I got a class pack!
Sarah Love the space. So clean and easy to move around. Their classes are so fun and engaging. First time I enjoy treadmill running. Their instructors are also very nice and knowledgeable. Only altitude training gym cananda I believe. Would deff recommend giving this place a try!
Veda I love this place as it's got top of the range equipment and of course you are getting the gains of altitude as you work out. Everything is spotless clean too. The people are also incredibly nice and helpful. Likely my best gym experience in Toronto to date.
Ian Resources for Endurance Athletes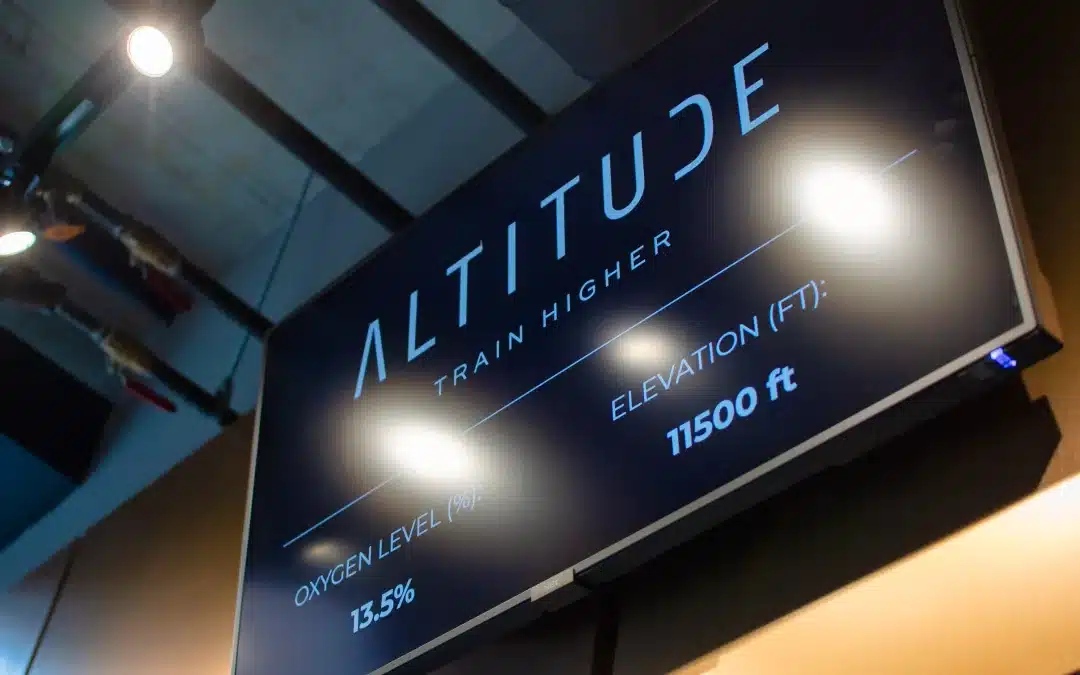 Simulated altitude training, also known as hypoxic training, is a method of training that involves exposing the body to reduced oxygen levels in order to improve physical performance. It is commonly used by athletes to improve their endurance and capacity for oxygen...